Breast Imaging
Carestream Health, a leader in mammography imaging, offers complete end-to-end solutions for breast imaging. Drawing on our 78 years of experience developing breast imaging solutions, we understand the demanding image quality and unique workflow needs of mammography professionals.
We offer scalable analog and digital mammography solutions designed to improve efficiency and effectiveness.
Digital Breast Imaging Solutions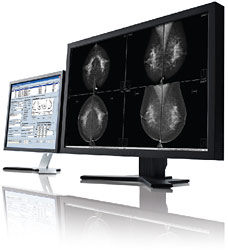 Our digital mammography solutions are standards-based, with an open architecture that is scalable and configurable—allowing integration with digitized priors, CR, FFDM, US, MR, and other imaging modalities from most manufacturers.
Our digital mammography solutions include:
• Carestream Health's multi-modality breast imaging workstation for high-resolution viewing of all digital mammography exams.
• Optional features for CARESTREAM RIS and PACS that deliver specialized functionality to help facilitate the productive viewing and management of mammography exams.
• Computed Radiography (CR) systems* that facilitate breast imaging through the digital capture of mammographic images—with an installed base of over 2,000 CR Systems with the Mammography Feature.
Trust Carestream Health's 78 years experience of developing breast imaging solutions to help you. Discover our full suite of mammography solutions.
* Currently offered in Canada, Europe, Australia, Asia and other regions of the world. We have applied to the FDA for approval to market this system in the United States.