Richard S. Morabito, Chief Purchasing Officer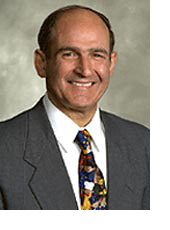 Richard S. Morabito ist Chief Purchasing Officer von Carestream Health Inc.
Richard Morabito war zuvor Chief Purchasing Officer und Vice President der Eastman Kodak Company. Dort war er maßgeblich am Aufbau einer leistungsfähigen weltweiten Einkaufsabteilung für KODAK beteiligt. Durch seinen Einsatz steigerte er die Produktivität, optimierte die Kommunikation und rationalisierte die Vorratshaltung. Außerdem konnte er u. a. das Qualitätsmanagement verbessern sowie Anlaufzeiten verkürzen und er startete E-Commerce-Initiativen. Er leitete erfolgreich jährlich stattfindende regionale Versammlungen für KODAK-Hauptlieferanten, bei denen er die Forderung nach zweistelligen Produktivitätszahlen und die Qualitätsansprüche von KODAK vermitteln konnte.
Zuvor war Richard Morabito Vice President, Global Purchasing, für die Corporate Strategic Services/Manufacturing Support Organization der Xerox Corporation. Er wurde 1994 auf diese Position berufen und war weltweit für das Management sowohl des produktionsbezogenen als auch nicht produktionsbezogenen Einkaufs verantwortlich. Dies umfasste u. a. den Lieferantenstamm für Herstellungsmaterialien, die Förderung von weiblichen und Minderheiten angehörenden Lieferanten sowie die Zulieferer-Qualitätssicherung.
Morabito kam im Jahr 1969 zu Xerox. Dort arbeitete er in leitenden Managementpositionen und war u. a. Director für Manufacturing Operations in Lateinamerika. Anschließend wurde er zum Vice President der Manufacturing Operations in Kanada und Lateinamerika, danach zum Vice President von Asset Recycle Management, Integrated Supply Chain und zuletzt zum Vice President von Global Purchasing Manufacturing Support ernannt. Das Executive Committee von Xerox Brazil ließ ihm die seltene Ehre zuteil werden, eine Straße in Resende, Brasilien, wo sich das Xerox-Werk befindet, nach ihm zu benennen.
Morabito erwarb seinen Bachelor in Wirtschaftswissenschaften und Betriebswirtschaft an der Alfred University. Im Jahr 1996 ernannte ihn die Greater Rochester Metro Chamber of Commerce zum International Executive of the Year.