Joseph Ruh, General Counsel and Corporate Secretary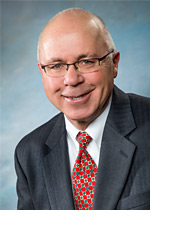 Joseph F. Ruh ist Leiter der Rechtsabteilung und Corporate Secretary und gehört zum Führungsteam des Unternehmens. In dieser Rolle leitet er die weltweite Rechtsabteilung des Unternehmens.
Er verfügt über 30 Jahre Erfahrung im Konzernrecht und arbeitete für global tätige HiTech-Unternehmen. Zuvor war er stellvertretender Leiter der Rechtsabteilung und Assistant Corporate Secretary bei Carestream und agierte als leitender Anwalt für den Geschäftsbereich Medizin- und Dentalprodukte für das Unternehmen. Neben der Verwaltung des geistigen Eigentum und komplexer Geschäftstransaktionen war er auch als Berater zu Arbeits- und Beschäftigungsrichtlinien und der dazugehörigen Rechtsstreitigkeiten tätig.
Vor seinen Eintritt bei Carestream hatte er 16 Jahre lang verschiedene Rolle in der Rechtsabteilung der Eastman Kodak Company inne, wie z. B. leitender Anwalt für die Internetgruppe von Kodak und Division Counsel für den Geschäftsbereich digitales Imaging und Film. Er gewährleistete außerdem die globale juristische Betreuung in den Werbe-, Förder- und Marketingprogrammen von Kodak und bei der Lizenzierung des geistigen Eigentums.
Vor seiner Karriere bei Kodak war Joseph F. Ruh Unternehmensjurist bei Computer Consoles, Inc., einem Tochterunternehmen von Nortel, und davor war er im Bereich Unternehmens- und Sicherheitsrecht bei der Anwaltskanzlei Harris Beach in Rochester tätig.
Er hat den Titel eines Juris Doctor der SUNY Buffalo Law School, und einen B.A. in Geschichte und Politikwissenschaft von der University of Rochester.
.