Eliot Siegel, M.D., M.D.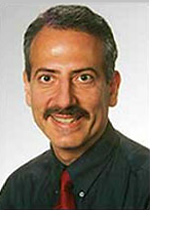 Dr. Siegel ist Professor und stellvertretender Vorsitzender Forschung Informatik an der University of Maryland School of Medicine, Department of Diagnostic Radiology sowie Chef der Radiologie und Nuklearmedizin für das Veterans Affairs Maryland Healthcare System, die beide in Baltimore, MD. Dr. Siegel ist darüber hinaus für das National Cancer Image Archive des NCI verantwortlich und Workspace Lead des caBIG In Vivo Imaging Workspace des National Cancer Institute.
Unter seiner Leitung wurde das VA Maryland Healthcare System zum ersten filmlosen Gesundheitsunternehmen in den USA. Er hat mehr als 200 Artikel und Buchkapitel über PACS (Picture Archiving and Communication Systems) und digitale Bildgebung geschrieben sowie sechs Bücher zu diesem Thema herausgegeben, darunter "Filmless Radiology and Security Issues in the Digital Medical Enterprise". Er hat über 1.000 Präsentationen in aller Welt zu einer Vielzahl von Themen gehalten, beispielsweise über den Einsatz von Computern in der Medizin. Er wurde zum "Researcher of the Year" ernannt, erhielt mehrere Auszeichnungen für Innovation, darunter den Smithsonian Award, und wurde bei der Verleihung der Auszeichnung "Educator of the Year for Diagnostic Radiology" zum Zweitplatzierten gewählt. Die Leser und die Redaktionsleitung von Medical Imaging haben Dr. Siegel in den letzten zwei Jahren zu einem der zehn besten Radiologen gewählt. Er war drei Jahre lang Symposiumsvorsitzender des Medical Imaging Meeting der Society of Photo-optical and Industrial Engineers (SPIE), ist derzeit Chair of Publications für die Society of Computer Applications in Radiology (SIIM) und wurde in dieser Organisation als Mitglied geehrt. Er ist Chairman des Medical Imaging Resource Committee der RSNA. Seine Interessen- und Verantwortungsbereiche auf lokaler und nationaler Ebene umfassen digitale Bildgebung und PACS, Telemedizin, die elektronische Patientenakte sowie Informatik.
Dr. Siegel erwarb seinen M.D. an der University of Maryland.