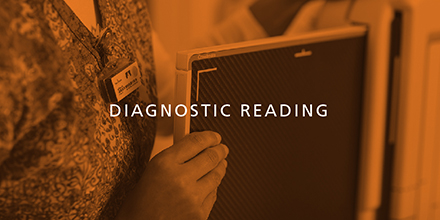 Diagnostic Reading #12: Five "Must Read" Articles on Medical Imaging
Reading Time: 3 minutes read
In the news: AI Features to adopt today in radiology.
This week's articles in Diagnostic Reading include: AI features for radiology to adopt today; ultrasound may damage COVID-19; imaging shows COVID correlation; MRI scans may reduce cancer death rates; and four ways radiology industry can help with climate change.
AI features in radiology to adopt today – Everything Rad
All the noise and hype around artificial intelligence in radiology can make it hard for imaging providers to know which AI-based applications deliver value now. Everything Rad details AI features for radiology that can be adopted today to help improve image quality, optimize dose and increase workflow efficiency.
Ultrasound's potential role in destroying COVID-19 – Health Imaging
Ultrasound waves used at medical imaging frequencies were shown to damage the protective shell around coronavirus strains and could be a key breakthrough in the battle against COVID-19, according to a new computer simulation study published in the Journal of the Mechanics and Physics of Solids. While the results are preliminary, the researchers believe they open the door for using ultrasound-based treatments to damage different coronaviruses.
Imaging uncovers clues about COVID-19 – Axis Imaging News
Researchers have been discovering ways COVID-19 impacts different parts of the body, and a correlation has been found between the severity of the disease in the lungs and the severity of effects on patients' brains. By examining lung CT scans of patients diagnosed with COVID-19, physicians may be able to predict how badly they'll experience other neurological problems that could show up on brain MRIs. This could identify symptoms for earlier treatment and help improve patient outcomes, according to research in the American Journal of Neuroradiology.
Early prostate MRI scans can help reduce mortality rates – AuntMinnie Europe
Performing MRI scans before biopsy on men with high prostate-specific antigen (PSA) scores could reduce prostate cancer death rates by as much as 18 percent versus no screening, while also reducing the harms of screening compared with other strategies, according to a study published in JAMA Network Open. The findings could help clinicians better tailor prostate cancer screening based on risk of developing prostate cancer, rather than simply screening all men based on their age, stated researchers.
4 ways radiology can reduce its climate change impact – Diagnostic Imaging
The radiology industry plays a bigger role in climate change than one might anticipate, and the time to reduce that impact is now, say industry leaders in the Journal of the American College of Radiology. Based on current data, 10 percent of the nation's carbon emissions, as well as nine percent of harmful non-greenhouse air pollutants, come from the U.S. healthcare system, and radiology can be a significant contributor to an individual hospital's energy use. This article addresses four areas where the industry may be able to reduce its carbon footprint.
#diagnosticreading