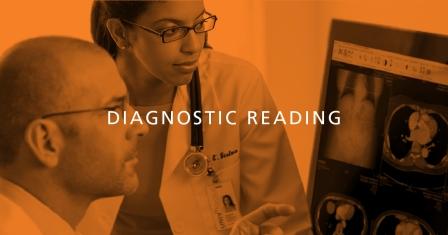 Diagnostic Reading #48: Five "Must Read" Articles on Medical Imaging
Reading Time: 3 minutes read
A ranking of best states for radiologists, and strategies for effective radiology administration are in the news.
This week's articles in Diagnostic Reading include: an RSNA discussion on financial challenges in radiology; radiology reporting in patient-centered care; strategies to become a more effective radiology administrator, an increase in CT lung screening; and the 10 best states to be a radiologist.
How can radiology practices address financial challenges? – DOTmed HealthCare Business News
Recent regulatory changes and large capital outlays will affect healthcare, and radiology practices in particular. At the recent RSNA annual meeting, experts provided advice to fellow imaging professionals on how to meet these challenges during a session titled "Show Me the Money: Financial Outlook of Radiology."
RSNA 2019: Patient-centered care means radiology must make reports more accessible – Health Imaging
Clinicians can decipher radiology reports but as consumers demand more involvement in their care, changes need to be made to make these documents more digestible for patients, according to new research. A session speaker at the recent RSNA meeting stated that many healthcare institutions are making radiology reports available through patient portals. Whether a majority of patients actually use these online resources is up for debate; however, creating patient-centered radiology resources is a must. Read the blog about Radiologists' interactions with patients.
Best practices for radiology administrators – Everything Rad
What are the best practices used by effective radiology administrators? Three of the AuntMinnie Semifinalists for Most Effective Radiology Administrator/Manager shared their strategies with Everything Rad. Their strategies include measureable strategic goals, communicating with staff often and effectively – and rewarding them. Read the blog to learn their other strategies.
Participation in CT lung screening reaches new heights – AuntMinnie
Years of outreach and awareness campaigns appear to be paying off for CT lung cancer screening. According to a presentation at the RSNA annual meeting, the participation rate among eligible individuals in the U.S. has greatly increased in recent years. These findings point to a possible advantage of targeting CT lung screening outreach to specific groups of individuals, including current smokers, males and people with lower levels of education.
Top 10 best states to be a radiologist in 2019 – Diagnostic Imaging
There are 36,154 active radiologists living throughout the United States, according to the 2017 Association of American Medical Colleges Physician Specialty Data Report. Many choose to work in populated areas while some gravitate toward more rural environments. Using eight different metrics, this article ranks—from 10 to 1—the best states in the country to be a radiologist.
#diagnosticreading #RSNA19