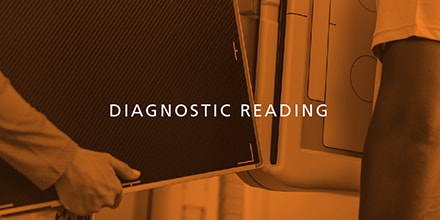 Diagnostic Reading #26: Five "Must Read" Articles on HIT and Radiology
Reading Time: 3 minutes read
Headlines this week include the cost of no-shows in the radiology department; and a strong case for the healthcare cloud.
This week's articles in Diagnostic Reading include: exploring the strategic benefits of a move to the cloud; physician supervision doesn't reduce medical errors; radiology departments lose up to $1 million a year due to outpatients not showing up for a scheduled exam; international study group says weight-bearing cone beam CT is on a path to soon become the standard imaging study for foot and ankle pathologies; and pharmaceutical companies paid radiologists more than $43.6M in 2015.
Exploring the strategic benefits of a move to the cloud – Healthcare IT News
Cloud computing has emerged in recent years as a cost-effective alternative to expensive data warehouses. Recent research shows that an increasing number of hospitals and private practices are migrating databases, applications, and services (such as disaster recovery) to the cloud, with no slowdown in sight. In a January 2017 survey of healthcare IT executives, 65 percent of respondents said their healthcare organizations currently utilize the cloud or cloud services.
Physician supervision of residents doesn't reduce medical errors – Clinical Innovation+ Technology
It stands to reason that oversight from an experienced colleague could help reduce mistakes from greener individuals. But increased supervision of medical residents by attending physicians during patient rounds did not significantly reduce the number of medical errors, according to a study published in JAMA Internal Medicine. The results of this study suggest that residency training programs reconsider the appropriate level of attending physician supervision in designing their morning rounds, balancing patient safety, excellent care, learner needs and resident autonomy.
Radiology departments lose up to $1M a year due to no-shows – Health Imaging
A recent study shows outpatient no-shows for scheduled imaging exams can cost a radiology department at a standard U.S. academic medical center as much as $1 million in lost revenue per year. Uncaptured revenue ranges up to $15,000 per year for breast ultrasound and up to $350,000 per year for mammography screening. Brain MRI, abdomen ultrasound and mammography screening each exceeded $100,000 in uncaptured revenue each year.
Weight-Bearing CT International Study Group outlines its mission – Everything Rad
The Weight-Bearing CT International Study Group is comprised of active and passive members from relevant international surgical and radiology foot and ankle societies. Dr. Cesar de Cesar Netto explains the mission and research initiatives of the group.
Pharmaceutical companies paid radiologists more than $43.6M in 2015 – Radiology Business
Pharmaceutical companies paid radiologists more than $43.6 million in 2015, according to a new study. But do such payments negatively impact public perception? Manufacturers and medical suppliers are required to submit all payments of more than $10 to CMS. Payments may include funding for research, consultant fees, gifts or even meals. Researchers explored CMS Open Payments data to find all payments made by pharmaceutical companies to individual radiologists in 2015. They report that previous research based on initial CMS data from 2013 and 2014 suggests that industry payments received by radiologists in the United States were relatively lower and infrequent when compared to other medical specialties. The situation in radiology is different since radiologists are barred from ordering any diagnostic imaging studies according to Medicare regulations.
#DiagnosticReading #EverythingRad