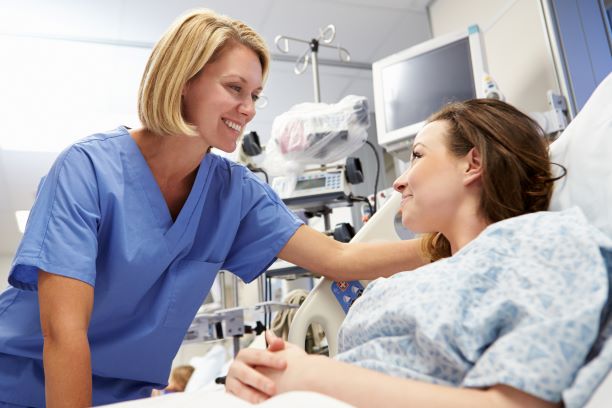 Patient-Centered Care and the Radiology Technologist
Reading Time: 5 minutes read
Radiology technologists play a major role in helping practices and departments embrace true patient-centered care.
As the healthcare industry transitions to a tighter focus on Patient-Centered Care, we developed a three-part blog series on this timely topic. This is part two of the series. You may wish to read part one, "Understanding True Patient-Centered Care", and part three, "Patient-Centered Care and the Technologist."
Lesen Sie den Blog auf Deutsch
 "Be kind, for everyone you meet is fighting a hard battle."  – Plato
Many of the patients who visit you for an imaging exam are injured and in discomfort. Others are dealing with the fear and pain of a serious disease. And many don't know what's wrong and are apprehensive about their pending diagnosis.
Whichever the case, nearly all of them are fighting either a physical or emotional battle.  As a radiology technologist, you are the very first clinician in your practice that each patient will encounter. That makes you crucially important when it comes to helping a patient feel calmer, more confident, and above all, cared for.
In other words, you have a major role in helping your practice or department embrace true patient-centered care. And in this effort, simple kindness will go a long way.
But what exactly is patient-centered care?
The term "patient-centered care" is used often today in the field of medicine. But do you know what it really means? To clarify, patient-centered care is far more than striving to serve the patient with quality medical attention. Genuine patient-centered care is an approach that revolves entirely around the patient. It is based on the human connection between the clinician and the patient. It requires respect and empathy for each individual patient's unique feelings and needs. Put more simply, it means treating them as you would want to be treated if you were in their shoes.
How radiology technologists can put patient-centered care into practice
How, specifically, can rad techs strive to embrace patient-centered care? There are many ways – all of them easy to put into practice. Here are a few:
From the first moment you meet them, help patients feel as at ease and comfortable as possible. Greet them warmly with a smile and assure them that you are there to help take excellent care of them. If they seem nervous, acknowledge it – and assure them that their exam will be quick and virtually pain-free. A little kind attention can make a huge difference.
People are frightened by the unknown. The medical terms and procedures you use every day are unfamiliar to the. Use plain English rather than medical jargon. Explain precisely what will happen during their exam, so they know just what to expect. And urge them to ask questions at any time and to tell you if anything during the procedure is uncomfortable or bothers them.
Be extra-gentle as you position a patient for an exam. The right imaging equipment will help a great deal. If your facility has an exam table that adjusts to a low position, it will be much easier and more comfortable for positioning elderly, frail, or injured patients. A float-top table will help you achieve proper positioning by moving the tabletop rather than the patient. And an extra-wide, high-weight-capacity table will save your very large patients both discomfort and embarrassment.
Today's patients want a role in their own care. They want to be an active participant rather than a passive recipient. If you have a patient portal, let them know they can view their exam report and diagnostic images online – anytime, from any place with internet access. This will also allow them to securely share images with family and friends, or provide them to other facilities or specialists who are providing them with care.
When the images have been successfully acquired, take the time to walk the patient back to the waiting or exam room. Thank them for coming to your facility and for being such a cooperative patient. Be sure to wish them well on the rest of their patient journey.
Everybody wins
Bear in mind that it's not just the patient who benefits from this approach to imaging. Your practice or department does too, because patient-centered care optimizes the way your practice is perceived and the positive word-of-mouth publicity it receives. In short, it leads to greater patient satisfaction – a key to helping your practice grow and succeed. It can also keep you more competitive. This is particularly relevant in the U.S., where patient-satisfaction scores are tied directly to government reimbursement.
With patient-centered care, everyone truly does win. For the patient, it can mean improved outcomes, better health, and a higher overall quality of life. For your practice, it means increased profitability and success. And for you, it can lead to professional growth and enhanced skills.
How does your practice demonstrate patient-centered care? Would you like to share your practices and insights in a blog?  Contact Katie Remis, Everything Rad Editor, or comment below.  #patientcenteredcare #radtech #NRTW17
Related blogs:
A Rad Tech Shares His Insights for Imaging Pediatric Patients
Shriners Hospital for Children Shares Their Insights for Imaging Pediatric Patients
Radiology Equipment Selection Begins with Understanding Workflows
This is Part Three of a series on patient-centered care. You may also want to read Part One, "Understanding True Patient-Centered Care", and Part Two "Patient-Centered Care and the Radiologist."
Klaus Erdbories is Vice President of Global Medical Sales at Carestream Health. He has 15 years of experience in medical imaging sales, operations and finance. His education includes an Executive MBA from IMD Business School.