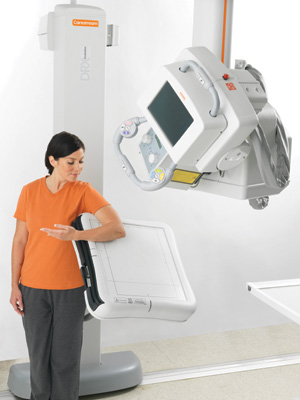 Out-of-bucky and cross-table exams made easy (finally)
Reading Time: 1 minute read
One of the few limitations of DR technology has been the need to use CR cassettes for out-of-Bucky work and complex cross-table exams. Now a new DR system makes those requirements obsolete.
The fully automated CARESTREAM DRX-Evolution system delivers dynamic throughput with autopositioning and autocentering features with the use of a wall stand and/or table. Instead of a having a fixed DR detector, this solution offers a movable wireless cassette-sized DR detector that can be used anywhere within the room—in a wall stand, table or tabletop exams.
The advantages of this new system are particularly evident for trauma and orthopedic exams. Having the ability to position the detector where staff needs CR today is a thing of the past.  This not only boosts productivity but also improves image quality that one would expect from DR.
Does your staff need to use CR cassettes during some DR-based procedures? Where would a DR suite with a movable DR detector provide the greatest benefits at your facility?
– David Chan, Product Line Manager, Digital Radiography | Carestream Health