CIO eBook chronicles healthIT migration from paper to electronic record keeping
Julia Weidman, Carestream Health
Three years ago, when we embarked on our CIO eBook, the healthcare IT world was in a different place. EHR adoption was starting to rise, enabling more complete information access electronically within the enterprise.  Images were not typically available via a patient portal. They were hand-carried by the patient or sent by messenger to the referring physician. 3D studies were less prevalent, and study file size was smaller. Storage was a threat, but not a major obstacle. Cloud storage was commonplace for other industries, but not healthcare. Now look at how far we've come.
To understand the journey, read the eBook, "From Trust to Use and Beyond," for a look at the major factors that have been driving clinical collaboration and change in healthcare IT. The interactive eBook takes a case study approach to the critical issues that are at the root of healthcare IT: trust, access, data, mobility, interoperability, integration and VNAs. Here's a summary of what you'll learn:
The issue of trust is at the heart of Chapter 1 in our CIO eBook. Clinicians are coping with change by placing trust in the things that have worked for them in the past. They know that when they spend time with patients, outcomes improve. Yet there is never enough time available. Meanwhile, adopting new procedures and a new workflow, no matter how promising the results might sound, is perceived as taking time away from patient care. So clinicians are skeptical. Chapter 1, "Building Trust", is the story of Maureen Gaffney from Winthrop-University Hospital on Long Island, NY.  She is a clinician—physician's assistant (PA-C) and RN who has ascended to Senior Vice President Clinical Operations and Chief Medical Information Officer (CMIO).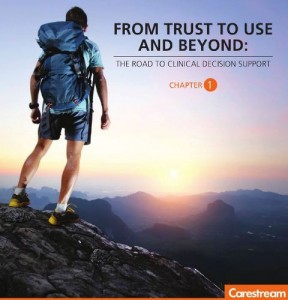 Ms. Gaffney's approach to transforming her hospital was clear from the start. She began by enlisting the buy-in of senior management at the hospital, ensuring resources and transparency. Most of the actions taken on behalf of her project were guided by multidisciplinary committees which always included a clinician and an informatics specialist as members. The starting place was to ensure data integrity, coupled with an understanding of how the data would be used, and how the electronic version would fit into the clinical workflow. Continue reading →