I will be taking part in two presentations at the European Society of Radiology's ECR 2015 Congress, and each one will be related to the use of our Carestream Multisite Virtual PACS.
The first is a poster titled, "Establishing a regional on-call radiology service using a shared virtual PACS," and was completed with co-workers K. Slaven, S. Dyce, and L. Anslow
Out-of-hours radiology has been delivered by radiology residents working on-call rotations in individual hospitals. As the intensity of work has increased, out-of-hours work has seriously impacted time spent during the day in the department. The need for compensatory rest has led to significant loss of training in what is already a relatively short training scheme.
Cheshire and Merseyside is a small but complex health economy in the North West of England. The system has the following facilities:
Seven acute hospitals
One tertiary cardiac hospital
One neurosciences centre
One tertiary paediatric centre
One cancer centre
One specialist obstetrics/gynaecology hospital
Six acute sites have resident radiology specialist registrars in rotations between four and nine in size.
None of the rotations were compliant with the European working time directive (EWTD). Four of the sites were on shared RIS/PACS, and the other two had PACS from different vendors.
The move to a shared global worklist (Vue Connect) and shared RIS has meant that the acquisition of images and reporting can be accomplished on separate sites. This also means that one resident can be on-call for more than one site at a time.
By combining the registrar workforce, we have been able to achieve compliance with the EWTD and significantly reduce the number of nights worked, hence allowing for a significant increase in training hours within the base  departments.
We are about to incorporate the last two acute sites. We have placed a Carestream agent on the last two sites, which allows image sharing seamlessly across all the sites including systems from other vendors. We plan to move to PACS-based reporting soon, so the residents will have a single workflow for their out-of-hours work, and to avoid having to work in three different PACS and three different RIS.
Our PACS has some unique features that makes this possible, and will be presented in the second presentation:
"Development of a shared multi-site virtual PACS"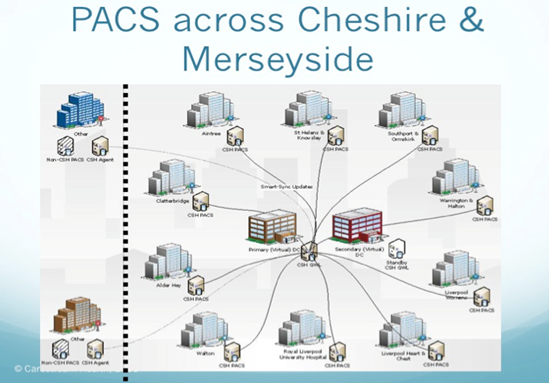 The co-authors for this presentation are S. Dyce, N. Pfirsch and S. Lomax.
As mentioned previously, Cheshire and Merseyside is a complex health economy. The previous system procured during the National PACS programme in England had PACS supplied by a single vendor in our region. However, image sharing was never a part of the programme and images had to be transferred by CD, DICOM push and latterly by a bespoke email-like system—the Image Exchange Portal.
There was a huge movement of patients from one acute site to another, or to specialist centres. Frequently, previous imaging was not available in a timely fashion, studies were reported in isolation, or even repeated when they could not be accessed. Regional multidisciplinary meetings were a massive effort to ensure all imaging was available for discussion, and image transfer was a huge overhead for all of our departments.
The goal was for all 10 trusts to have left the national PACS programme by June 2013 and this was achieved.
During procurement, we looked for a system that would behave as a single virtual PACS with seamless display of all current and prior studies. There was also a requirement to be able to view and report images from any site, and a requirement to support images from the two hospitals that had PACS from other vendors. A single mega PACS was a possible solution, but individual institutions wished to keep ownership of the images.
We selected our vendors based on these requirements:
Single master identifier – the NHS number
Acquisition and reporting are kept separated
Single instance of a study so annotations and reformats are applied to a single study
Seamless display of priors; the reporter could be unaware of the location of prior studies, but they appeared in local PACS
Carestream was chosen as a vendor that could support this workflow and deliver it in the six-month fixed timetable. The system was delivered before the cut-off date, and over 100TB of data was migrated into the system.
All of the above objectives were achieved, as well as the following:
Seamless multidisciplinary meetings with display of priors
Major reduction in overhead of image transfer
Specialist reporting e.g. paediatric, neuro is supported
Centralised on call centre for radiology residents
Significant Cost Reduction
The live presentation for "Development of a shared multisite virtual PACS," will be given at ECR 2015 in SS 1805, on Sunday morning from 1030-1200.
Dr Peter Rowlands, consultant radiologist at Royal Liverpool & Broadgreen University Hospitals NHS Trust (RLBUHT).