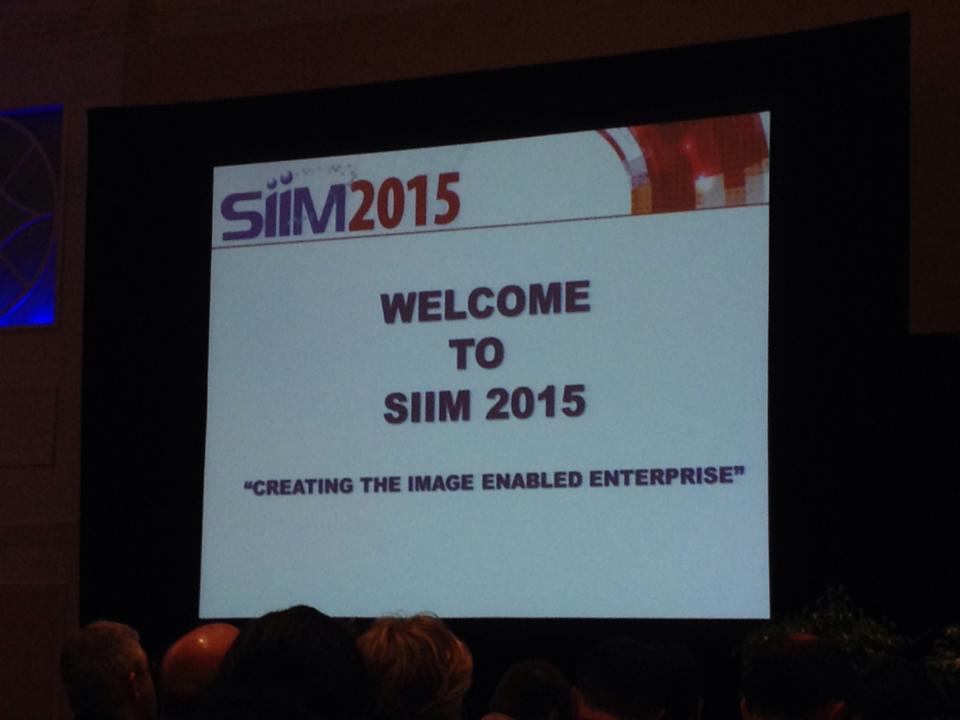 The theme of SIIM 2015 is "Creating the Image Enabled Enterprise"—a mission to bring radiology and imaging informatics to the forefront of healthcare enterprises.
This theme came through loud and clear in Donald K. Dennison's opening keynote, "The Next Imaging Evolution: A World Without PACS (As We Know It)." Dennison was not explaining how PACS would eventually go away, but highlight how the way in which the technology is built, the capabilities it provides, and the way in which it is used will change–moving from a departmental technology to one that is integrated throughout the healthcare provider enterprise and EMR. In fact, that change is happening faster than we may believe.
Dennison kicked off the keynote describing the three main forces that are currently changing the world RIS and PACS:
Payment reform shifting from volume to value-based reimbursement models
EMR adoption
Consolidation of healthcare providers with larger ones buying or affiliating with smaller hospitals, care facilities, or imaging centers
From there, Dennison moved on describe the current state of imaging in the 2010s. The section on departmental vs. enterprise imaging focused on how imaging is managed today, and how it will need to move to the enterprise model moving forward. Departmental imaging isolates radiology, but still contains numerous imaging informatics benefits such as uniting the VNA, enterprise viewer, image archive, PACS, radiology portal, and reporting within the radiology department.
Enterprise imaging will move this information throughout the organization, and will be dependent on the discovery, presentation, storage, and management of the imaging data.
To accomplish this, Dennison highlighted governance as being the key. If IIPs are not sitting down with Document Management and EMR people, this could lead to duplicate work. Governance on where the imaging data is going to be put and how providers will access it is a must. Doing so will result in an informatics that is sensible, indexed, and presented in context when accessed.
Dennison went on to tackle clinical decision support (CDS), interoperability with Web APIs such as HL7 and DICOMweb, multimedia-enhanced radiology reporting, and how there is a plethora of informatics that must be measured if quality is truly to be achieved today.
He arrived at what PACS vendors need to do in order to meet these pressing needs, and it essentially came down to using a PACS in a single-vendor system–encouraging vendors to make a better PACS. One that is engineered to integrate the worklist, image display, report center, and advanced visualization. It must be easier to deliver MERR, there should be one desktop to manage, and should add VNA-like features to the PACS server.
For providers, it is much easier for them to manage all of these capabilities with a single PACS vendor than managing a different vendor for each one.
In his closing remarks, Dennison commented on how imaging informatics professionals have a lot to offer in an era of consolidation, standardization, and integration. Professionals must have a plan in place and they must share it outside their department walls. Every IT investment must have measureable value, and a policy must be developed for imaging record quality—going back to the importance of having governance in place.
Consistency and completeness of records in the age of interoperability and EMR access will be vital, so professionals must be ready to prove their value, because as Dennison said, "Evidence is king."
Rich Pulvino is the digital media specialist for Carestream. He is attending SIIM 2015 from May 28-30 at the National Harbor in Maryland, and will be publishing blog posts throughout the event.