Health IT systems  shift from record keeping to access that enables clinical collaboration
Julia Weidman, Carestream Health
Until the middle of the last decade, the primary goal of the EMR/EHR was actually to capture information,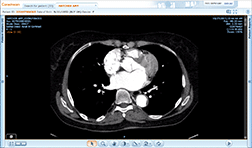 not to provide access to it – impeding clinical collaboration. It was a reference for doctors—a way to capture patient notes. It has since evolved from an archival role to an active collaborative role, providing access to reports, records, and images for all stakeholders involved in patient care.
Availability of a useful, problem-focused medical record
The idea for a comprehensive, organized medical record was pioneered by Dr. Larry Weed in 1956, but it didn't become well accepted in the U.S. until after 1968. Dr. Weed—known as the father of the Problem-Oriented Medical Record (PMD)—described the concept in his often cited NEJM articles.[1]