Patents and industry recognition are two ways to quantify it
Innovation in diagnostic imaging and healthIT is continually evolving, improving their potential to help provide better patient care and at less cost.
But how can you measure innovation? Patents and industry recognition are two ways. Please indulge us while we share some of our accomplishments from 2016. And if you'd like a preview of our plans to advance imaging capture this year, read the recent blog by our president of Digital Medical Solutions, Jianqing Bennett.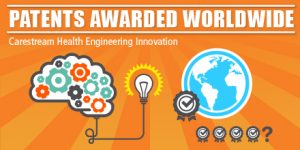 Let's start with patents. In 2016, we were awarded 43 new patents from the U.S. Patent and Trademark Office for innovation in radiography, cone beam CT imaging, healthcare IT, and other areas. We also received 52 additional patents in European and Asian countries.
The patents earned by Carestream's smart scientists and engineers include:
New medical image capture technologies related to the development of cone beam computed tomography (CT) systems designed for orthopaedic extremity imaging
Enhancements to our portfolio of healthcare IT systems that manage, store, and share patient data and medical imaging exams
Continued technology advances in our growing portfolio of radiology systems that can enhance diagnostic image quality for a wide range of healthcare providers
Continued advancements in laser imagers that provide affordable output of digital X-ray exams onto medical film and paper Continue reading