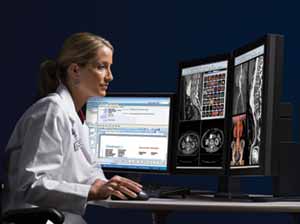 "Diagnostic Reading" is a new weekly series in which we will be sharing five articles we have come across in the past week that are worth reading and sharing. The topics covered will be across the spectrum–from radiology and medical imaging trends, to the most important issues affecting healthcare IT today. We hope you find these articles valuable.
1) Cloud Security and What it Means for Our Health
This article addresses many common questions regarding cloud security in healthcare. The article talks about the basics of the cloud before the discussion shifts to the transformation of healthcare with new technology.
2) Adding DBT to Screening Mammo Boosts Benefits, But Not Cost
Research conducted at the University of Washington has revealed that digital breast tomosynthesis (DBT) is cost effective and beneficial to mammography patients. This article analyzes the economic and medical benefits of DBT.
3) BYOD Security Risks: Strategies to Protect Your Hospital
The BYOD, or bring your own device, trend has started in many hospitals. This allows medical professionals to use their own phone, tablet etc. to access patient portals. This article talks about the potential security risks and how to deal with those risks.
4) Meaningful Use Problems Go Beyond Just Software, Say "Stage 2 Flexibility" Critics
This article touches on some of the current and potential difficulties of Stage 2 Meaningful Use.  As Meaningful Use progresses, healthcare teams will not have as much time to plan.
5) Assuring Quality: a Challenge that Must Be Met Now
In this article, Thomas Pope, MD, discusses the importance of peer-reviewing X-ray results in order to provide more successful diagnostic readings.